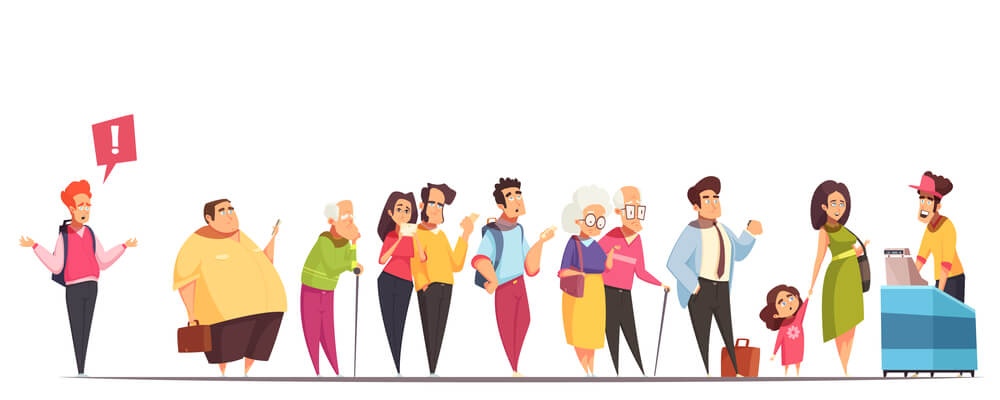 Reduce Lost Sales Using EPOS Technology
Keeping your customers happy by reducing queues and exceeding their expectations. Lost customers mean lost sales. Grasp how to reduce the risk by using queue busting technology.
Recent research shows that most people will only queue for around 5 or 6 minutes to be served. How does that impact your business? 56% percent of Britons would not return to a store if they had a bad queuing experience. That could be really painful for your business.
All Good Things Come To Those That Wait?
Modern life is run on such a fast pace we can order what we want, where we want, when we want. From takeaways to tiger suits for World Book Day that you forgot is tomorrow. Speed is the essence – we no longer like to wait around in fact we've all become a little – dare I say, impatient? Even the microwave gets shouted at a fair few times!
Now if your business is slow in serving your customers they are going to turn around and walk out the door. It's not just inconvenient for you but as a business owner it could be catastrophic. That's why more and more businesses are looking to streamline and speed up the day to day operations. Places like Mcdonalds have touch screen kiosks that are standalone order points freeing up staff to make sure customers orders are processed in a timely fashion. Even in local hospitals outpatients can use kiosks which increase through flow and improve the customer experience when checking in. There was even talk of sub post offices with self serve kiosks in remote places.
Customers know that once they have pressed the buttons on the screen they are being processed quickly through the system. So how could this queue busting technology work for your business?
Get in touch and let us help you reduce your customers queuing time
Self Service Satisfaction
Customers can clearly see on the touch screen terminal what options are available and at what price. Customers are led through their preferences using these intuitive screens. For a restaurant this could mean the customer enters the store and approaches the standalone screen. The choices they have are clear and easy to choose. They can have a mooch around to see what else you offer without feeling they are holding up the queue.
So now the hungry customer has decided to have a main meal and pudding to takeaway. The items were easy to find on the screen and it's all been added to their 'basket'. They can pay with a card (even contactless) or using their mobile phone. Perhaps your customer likes to pay with good old fashioned cash – no problem. in that case they are directed to the counter to finalise the sale.
The time it has taken for them to check their mobile, put their card in their wallet or count out their money staff have started preparing the meal so it is hot, fresh and more importantly quick!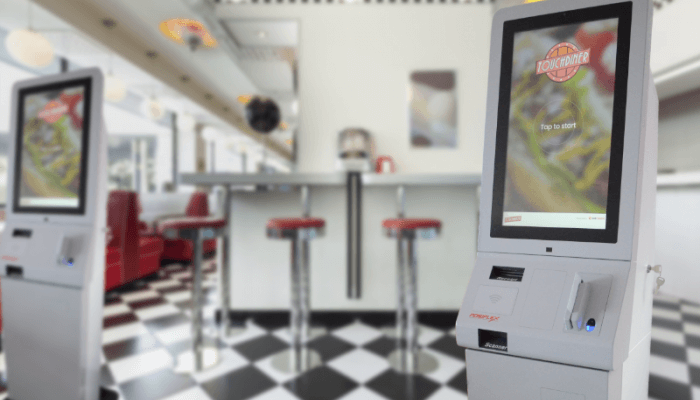 Self Service Kiosks Give A Great Customer Experience
Customers can be tempted to buy with clear images on an easy to use intuitive screen. Order, pay, collect and enjoy!
Still Need Convincing?…
Ok, so far we have mainly mentioned the benefits to customers and staff. But there are lots of reasons for you to invest in the kiosk self serve EPOS. The kiosks feature lots of progressive tools benefitting any eatery outlet.
Important information such as allergen advice can be shown at the time of purchase ensuring everyone is aware before ordering. Customers have paid upfront so they have made a committment to buying and are more happy to wait for their order. The kiosks not only offer queue busting technology, they can also display adverts, when not in use by customers, so showing off your yummy products and thereby attracting more sales.
Did you know that self service users spend an average 10% more than those at a counter point? It's all about giving the customer the choice and letting them enjoy the process. Prompts for adding extras or going for a larger option can also be displayed on the screens. Maximise sales and profitability and keep queues lower with a touchscreen kiosk.
Customers Hate The Wait
As a business owner you have got to embrace the fact that people do not like queuing. So ask yourself what can you do to alleviate the long queue in your outlet? Think about customers on the cusp of walking out and taking that hard earned sale with them. Your business needs queue busting technology!
People just don't want to stand in a queue at the till for precious minutes during their lunch break. Even when they pop in after work they want to be served quickly and efficiently andthen enjoy their meal.
But don't worry as a business owner you can stop people walking out from your shop or cafe or restaurant by using some simple techniques to keep them happy.
See how our suite of EPOS software can help keep your customers happy
Step Away From The Till
Tablets loaded with EPOS software that is linked to your till will enable staff to be more mobile whilst serving customers. Staff can approach the queue and start taking orders for people to speed up their wait and ease the pain of queuing. The order will be put through to the till and the customers order is prepared before they reach the counter.
This helps staff remain more professional and in control and reduces stress on them, too. So everyone is happy – the customer, staff and you because you keep valuable sales.
Tablets are ideal for giving staff the mobility to be where they are needed instead of just one static position behind the counter. They can answer customers enquiries or take orders whilst being a friendly face for your business. Customers feel valued because staff are dealing with their requirements much more quickly.
Tablets with EPOS software are very easy to use. The layout can be just like seeing the screen on your till so making life simple. And just as with your EPOS till, orders will go through to the kitchen where staff are busy preparing the food.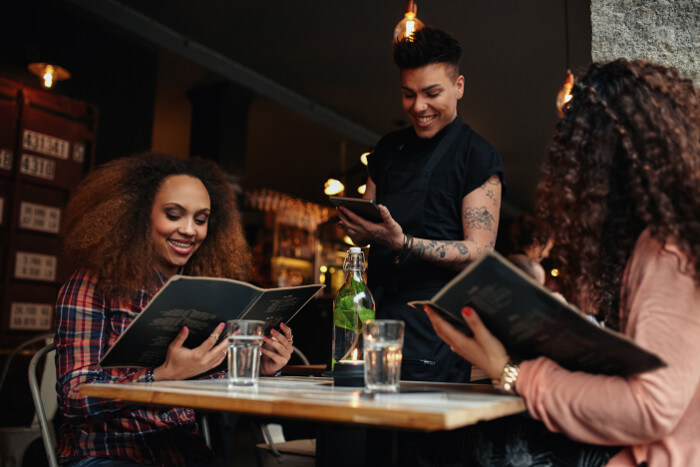 EPOS In Your Hand
A handheld waiter pad using EPOS to speed up the ordering process. Enabling staff to process all orders simply at the table keeps everyone happy.
Hands On Table Service
Another way to speed up sales is by keeping customers away from a traditional 'ordering point'. Using a handheld device with EPOS software can also be a valuable tool for hospitality businesses such as restaurants, bistros or other eateries. Enter queue busting technology in the form of a handheld device rather like a mobile phone. These rugged devices are very easy for staff to use and offer some extremely useful features.
Handheld waiter pads can have a complete plan of your dining room tables shown on screen at the touch of a button. Therefore staff can allocate tables to new customers quickly and easily. See who the guests are at each table, what status the tables are at and any free tables for recent guests. So as staff approach a table to take an order they can give a more personalised service. Any items on the menu that may be in low supply will flag up so ensuring the customer isn't dissapointed after ordering food that is no longer available.
The table layout allows all members of staff to see what the state of play is in your dining area. So if someone goes off to break or ends their shift customers can still be looked after effortlessly. Staff will also know when tables are ready to be billed or cleared.
Just The Bill Please
Using this type of technology reduces mistakes, boosts efficiency and in turn improves customer experience. Staff simply take the tables order and move on to where they are needed next.
With our Pay At Table solution in partnership with PaymentSense you can even print, split and finalise the bill from the table using your PDQ machine. This means your staff can spend less time walking around the building and spend more time seeing to your customers.
Increase sales by upselling using popups on screen. Prompt staff to ask the customer if they would like to double up or add sauce or extras. Not only does it maximise your revenue, it also improves the customers experience by giving them more choices.
Imagine a normal day in your busy restaurant or bar. Staff are at the table then go to the till, back to the table, pop out to the kitchen. This could happen umpteen times for every table or customer. Stop those annoying wasted trips now! Save on time, money and your staff's feet with hand held waiter pads.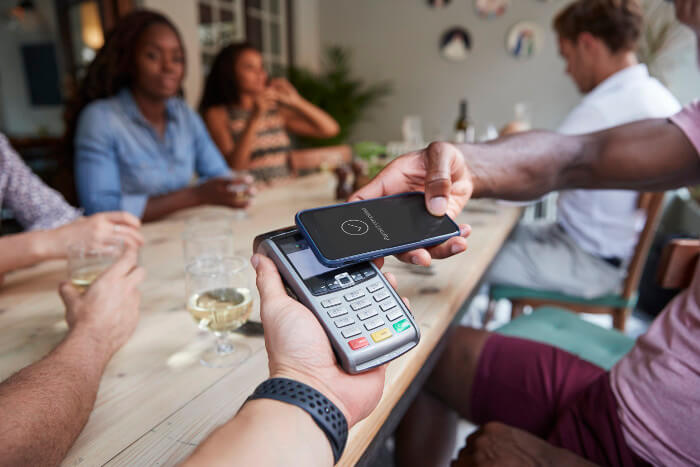 Save Time, Money & Feet
Pay At Table with Connect from PaymentSense helps turnover tables up to 4 times faster.
WHY LET QUEUES SLOW YOUR BUSINESS DOWN?